About Us
Celebrating our 30th Anniversary!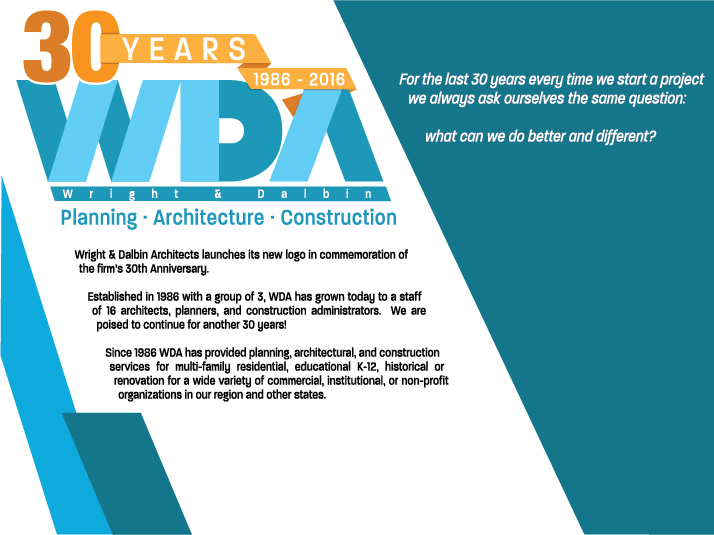 Wright & Dalbin is a local architecture firm with a global perspective. We employ architects from around the world and around the corner. Our global sensibility includes architects educated in Germany and France and Italy, Nepal and Mexico, and Texas. Nonetheless, we speak one language: architecture. Let us bring our global focus to your project.
Incorporated in El Paso in 1986, Wright & Dalbin devotes itself to client service, whether engaged for design, engineering, or project management. We meet deadlines and budgets, and consistently exceed our clients' expectations. We've designed multiple projects for one client since 1989. We build schools and shopping centers and homes and medical clinics, but we also build relationships.
A sound environmental policy is a legacy we can leave to our children and grandchildren. We're all responsible for the planet we leave to history, and the planet we live in today. We should use less, and leave a lighter footprint, so we leave more for the coming generations.
But building green is not just socially responsible. Building green is fiscally responsible, too because green buildings use less energy. And everybody agrees that the price of energy is going to continue to go up. So over the lifecycle of the building, the money you save on energy from a green building will pay for the extra construction costs maybe four times. And green buildings are better built, with more efficient envelopes, and more solid construction. So building green makes financial sense, whether you're building for resale value or long-term ownership.
We, as a culture, have a history of oblivious consumerism and rampant wastefulness. Wright & Dalbin is trying to help usher in the next era, and era of conscious living and thoughtful consumption.
Wright & Dalbin is a leader in Green and Sustainable architecture in El Paso.
The County of El Paso's Ysleta Annex was the first new construction in Texas to be awarded Three Green Globes by the Green Building Initiative. The Commons on Myrtle, a three-story, HUD 811 development in an old established neighborhood near downtown, is the first building in El Paso to be approved for gray water irrigation. Wright & Dalbin is currently administrating the construction of a Near Zero Energy Pilot Project Home in far east El Paso for Project Bravo, and is completing the design of an Eco Passive adobe home in the lower valley.
These projects illustrate Wright & Dalbin's commitment to green and sustainable living.